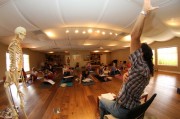 Three phenomenal workshops that can take yoga teachers from average to masters. This is what makes yoga teachers having students continue coming back class after class. With over 56% of Americans now doing yoga. Yoga teachers are needing to step up and stand out. This is the opportunity to learn, and do just that...Stand out, and make a difference in students lives.
Encinitas, CA, October 22, 2015 (Newswire.com) - ​Brian Dorfman is teaching three courses at The Soul of Yoga, 627 Encinitas Boulevard, Encinitas, Ca, 760.943-7685. Anatomy of Common Injuries, November 9th, Assessment, Adaptation and Adjustment, November 10th, The Art of Sequencing, November 11th. Cost: $100 a la carte, Included in Yoga Therapy Three Day Workshop Bundle with Brian Dorfman ($225) Take advantage of this special offer now
Brian is teaching three courses in The Soul of Body series. Participants will also get to participate in a asana class by Brian from 9am-10:30am on Monday that is included with tuition.
Anatomy of Common Injuries
Participants will gain an understanding of the structure of the body and the material of which it is made, this course will focus primarily on what often goes wrong and why. Students will also get an in-depth appreciation for common injuries of the arms, legs, neck, and back. Discussion will also include how Yoga can help or hinder rehabilitation of these injuries.
Brian has been one of the most influential teachers in my yogic path thus far. His knowledge, experience & passion for helping others on their healing journey is portrayed each and every class. This course provided me with knowledge & experience of the physical & subtle body far beyond my expectations, as well as the motivation & inspiration to continue growing and evolving into the best Yoga Therapist that I can be. Thank you Brian & the Soul of Yoga for this amazing journey ~ Namaste.
Assessment, Adaptation and Adjustment
One pose does not fit all. Skillful teachers, therefore, must be able to make a quick assessment and offer appropriate adaptation of asana for students in group classes and private sessions. In this class, participants will learn to assess their students' strengths and weaknesses in order to offer a practice that best fits each individual. Simple adaptations to common postures will be taught, along with how and when to use them.
The Art of Sequencing
A well-thought out sequence is the key to an effective asana practice. Learning the art of sequencing will allow you to organize your asanas to create specific effects. Expand your understanding of sequencing and learn to design harmonious, effective practices that meet your intentions. Discussion will focus on the necessary ingredients for optimal sequencing, including such concepts as pose and counter pose, peak pose, rests, and the balancing of extension and contraction.
Bundle All Brian Dorfman Workshops With Leslie Kaminoff', Author of Yoga Anatomy Workshops for only $360. Take advantage of this special and more.