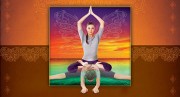 Over 56 million adults are interested in doing yoga these days, and that number is growing. But does it seem there is a yoga training every other block these days? There is a difference where to take a teacher training. The Soul of Yoga Institute is different. It's where Harvard meets Hogwarts. The certification students earn is the equivalent to an Ivy League degree on Wall Street. Students can take the next step, and learn to teach, and take it out into the world right after graduation.
Encinitas, CA, December 8, 2015 (Newswire.com) - ​Hatha Yoga Teacher Training, The Soul of Yoga, 627 Encinitas Boulevard, Encinitas, Ca, Starts February 4th. More information and to Sign up by December 23rd Save $400 click here
This is where students to learn and apply yoga to real life. It's where the science of yoga, and the spirituality are covered. It's where students can graduate, and be totally confident they can start teaching classes immediately. It's where students take their own practice to a depth that was unknown before. It's where students graduate and help other beings awaken to their full potential. It's where student gain strength of body, mind and spirit. It's a Yoga teacher  training unlike any others. Soul of Yoga teacher training is a doorway into soul-centered living. The rewards are immeasurable!
This transformational program combines the basic training students need to teach yoga with the spiritual principles of Raja Yoga, the complete and harmonious development of body, mind, heart, and soul.   Students will learn proper alignment/posture, concentration, meditation as well as anatomy and yoga teaching methods.
Soul of Yoga Institute gave me a stage to unlock and hone my soul's expression within a safe, sacred, and supportive environment.
Whether students want to teach yoga from a strong spiritual basis or simply deepen their own personal practice, this program is for everyone.  It teaches students principles and practices to apply to real life—their life, for a happier, healthier person.
Upon completion students will be eligible for the Registered Yoga Teacher (RYT) designation from Yoga Alliance.
Soul of Yoga Institute has been training highly respected and successful yoga teachers for 10 years. Their deeply revered curriculum has a well-known reputation as more than just a program of study.  The training is a true Spiritual journey that teaches students not just to lead yoga classes with confidence, but to live life with love.
The Soul of Yoga empowers students to tap into their innate gifts and passions, to teach from a place of authenticity and trust. And, to embrace who they truly are.